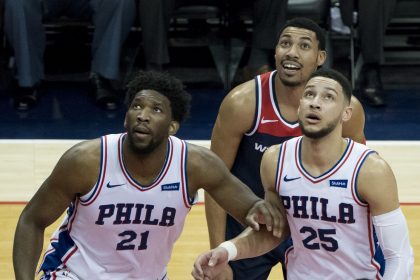 This is a blog post that I posted from last year in Madison, Georgia about the 76ers summer goals. Ever since I came to Wofford, I have been a 76ers fan. These big games coming up will show if what I said before has any validity.
The buzz around the 76ers and "The Process" has been growing in recent weeks. They traded up to pick Markelle Fultz with the 1st overall pick in the draft. The new team shows a lot of promise, people are actually paying attention to them. Sam Hinkie is finally being looked at as a smart man instead of a failure. Despite my love for the 76ers, I believe that the current path will only end in disappointment. probably only resulting in a couple early playoff exits.
Brett Brown Is not a winning coach
Brett Brown has been a part of the transformation of the 76ers from the tanking days and now to the hopeful days. Brown is a players coach and the young 76ers players love him. He has gained the respect within the locker room that is needed. He is focused on building players' skills and this is a perfect fit for a young high potential team.
So what's the problem?
Brett Brown has an overall winning percentage as a head coach of .229 and has never won more than 28 games in a season. Brown has coached some of the worst basketball teams that have ever played in the Association. Not all of the losing is Brown's fault, the majority of it was purposeful losing when Hinkie was pushing the tanking philosophy. We will see if this philosophy ultimately pans out, regardless, this leaves Brown in a bad spot. On the bright side, Brown comes from a winning culture as an assistant coach with the San Antonio Spurs from 2004-2013. After his time with the Spurs, he agreed to become the Head Coach with the 76ers.
Now that Brown has talent, what points to his ability to be able to turn this team into a great one? Have all those countless losses taught him what not to do? Brett Brown may love the 76ers culture, but why did it stick with it? If he has the ability to coach good basketball, why didn't he resign and go to another team? I cannot envision a coach that coached some terrible basketball teams turning it around. Is Brett Brown going to coach a championship/even conference finals worthy team? The 76ers players, new fans, and front office love Brett Brown for what he has done keeping the ship afloat during the hard times. However, if the 76ers want to win a championship, a coaching change could gain needed credibility throughout the league. Even the Warriors who built through the draft, fired Mark Jackson and signed Steve Kerr to become a championship team. There are coaches that coach good teams and coaches that coach great teams. Right now the jury is out if Brown can even coach a good team.
Injured Potential
Who was the best rookie in the NBA last year? Joel Embiid. He played some of the best basketball a rookie has ever played, when he was on the court. He was the focal point of the 76ers offense and defense, giving off an aura similar to Lebron James for the Cleveland Cavaliers. When he is on the court, the game feels a little bit more exciting, a little more interesting regardless of the score. He makes things happen. He also turns the ball over a lot. Joel Embiid, per 36 minutes, turned the ball over 5.4 times. The only two players that averaged more turnovers per 36 minutes were James Harden and Russell Westbrook. For a center to average that many turnovers is unheard of, Embiid finds himself in too many turnover prone situations.
This can be a testament to Joel Embiid's limited amount of minutes. Embiid only played 31 games this year playing an average of 25.4 minutes. Embiid was hampered with injuries throughout the year and his career, specifically leg and foot injuries. For a center, this is troublesome. Leg and foot injuries for a human so large can cause serious problems with athleticism and can become reoccurring. Imagine Embiid, the 76ers best player, being out of the playoffs or not being at full strength. This could occur year after year because of the wear and tear of the season flared up his injuries. Even if he can last the majority of the year, these reoccurring injuries could hurt the team during crunch playoff time.
Another one of the high potential players for the 76ers is Ben Simmons, a Point Forward without a jumper. Ben Simmons profiles as a forward who can be a ball handler and accurate passer, but possesses limited Iso skills. Which is fine, actually great for the 76ers, as long as he can stay away from being injured. Ben Simmons was injured Sept. 30 and is recovering from a Jones fracture. These foot fractures can be a burden on big men, but KD is a prime example of a player who overcame this injury. We will see how the injury affects KD's game in future years. Ben Simmons injury did allow for other players such as Dario Saric to carve out a niche. Simmons will begin the new season working with Fultz, a player that he will share the ball handling responsibilities with. Simmons injury history is less frightening than Embiid's, but both of their potentials could be hampered by their injuries.
Free Agent Missteps
As Free Agency sets to begin, the 76ers have a bevy of cap space that could be used to improve their roster. An influx of veteran talent would do wonders for adding credibility to an up and coming 76ers team. If the 76ers rescind Sergio Rodriguez's contract, they save around 9 million dollars. This move would make sense with the recent addition of Fultz. This would open up around 30 million in cap space. So what additions are needed for the 76ers?
Their frontcourt is filled with Joel Embiid, Dario Saric, Jahil Okafor, Richaun Holmes, and Ben Simmons in small ball situations. This frontcourt is brimming with young talent and does not need any free agent signings to limit the players growth.
The wings greatly need some upgrading if possible. The wings currently on the roster are: Robert Covington, Jerryd Bayless, Nik Stauskas, Timothe Luwawu-Cabarrot, and Justin Anderson. The wings have potential to be good role players, but don't possess a player that could really grow into a star. Given the current roster, Robert Covington and Jerryd Bayless will start as the two wings. Both of these players have shown flashes of being 3 and D players, complimenting perfectly with the other starters. However, Bayless was injured all of last year. He may have lost a step, so one of the wing positions is open to a free agent signing.
J.J Reddick, 33, is a free agent that has been connected to the 76ers, a great 3 and D guy who could provide a veteran  presence. He has provided the Clippers with a great asset, however this could spell trouble for the 76ers cap space. There have been rumors that Reddick is seeking a max contract. The price of the contract is less worrisome than the length of the contract. If Reddick is seeking a 4-5 year max contract, this could interfere with the 76ers keeping their great young core together. Reddick may provide 2 good years of value, but the 76ers will not be ready to ultimately compete in that time. They could be limiting their potential to sign other free agents for an old 3 and D player. Bayless, if healthy, could provide a similar value without losing any extra cap space.
The point guard position is held by Markelle Fultz and TJ McConnell. McConnell offered a lot of value considering his contract, a great 3rd rotation point guard. There is a need for another point guard on this roster and Sergio Rodriguez did not show enough promise. Now the 76ers must dance the line between adding a great point guard and not stunting Fultz's growth.
However, with such an abundance of cap space and the will to compete, the 76ers must do something. One option would be signing a good backup point guard behind Markelle Fultz. I believe that Fultz is a player that should start immediately given his 1st pick status and his ability to lead a team. However, he should have a veteran presence to guide him or step up when Fultz faces his rookie struggles. A great option would be Darren Collison, a player who thrives as a backup point guard. Collison would not command an outrageous contract while adding value off the bench.
Shabazz Muhammad, a Timberwolves wing, could add great value as a go to bench scorer. He's suffered from a clogged wing lineup in Minnesota, but could flourish with the 76ers. If he showed promise, he could easily take over the spot held by Nik Stauskas. This addition would command little cap space and could lead to a great role player one day. There's also a possibility that he does not, but it is better than surrendering a large amount of cap space to JJ Reddick. A very old player who could get into the way of the youth movement.
I believe that the 76ers will end up signing players to fill their cap space, to "contend/reach the playoffs". These rash moves could lead them mortgage their future. The current free agent pool is not conducive for the 76ers roster, so waiting until next year could provide better options. However, the 76ers are tired of losing and this could lead to rushed free agent signings. The 76ers with these new signings could possibly make the playoffs the first two years, probably losing in the 1st round. Its great to make the playoffs, but with this much talent, the team must set itself up for a championship. To justify "The Process", the 76ers must win big. No one should go through that much losing to only make the playoffs. The 76ers aren't signing players to win playoff games, they need to sign players to win championship games.
The 76ers have talent, lots of it. But talent doesn't mean anything when it isn't optimized. A balance of looking to the future and building a winning culture now will go a long way to creating a dynasty in Philadelphia.