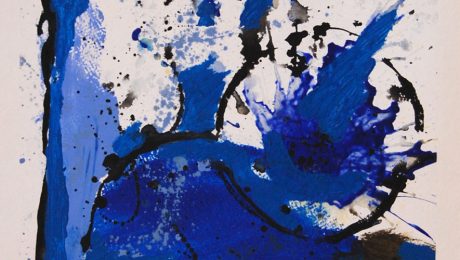 This was an old post that I wrote before my freshmen year at Wofford College and looking back at it I realize how much God's handiwork in the sky looks like abstract art. As I look outside the window in Madison, I am reminded of how much time and effort he puts into everything he does.
Before writing this post, I read an article about abstract art discussing Piet Mondrian views on art. Mondrian was involved in the De Stijl art movement, an art style focused on isolating a single visual style that would appropriate for all aspects of modern life. The style resulted in implementing geometric blocks of primary colors and vertical and horizontal lines. Mondrian's art theories greatly affected his abstract art style & his quote about abstract art stuck out to me when looking at this painting, Mondrian said
"The emotion of beauty is always obscured by the appearance of the object. Therefore the object must be eliminated from the picture."  
When I first look at this painting, I see splatters of ink. There seems to be an incident where ink has spilled all over the canvas. Reminiscent of the incident of an ink pen breaking in my pocket and ruining a pair of jeans I had when I was a kid. As I try to make sense of this painting, I run into problems. My eyes scan the painting, and the big splatter of blue paint could be a break of ocean water from the wave, ( the other expanse of blue). Then I run into the problem of what the black circle is surrounding the blue splatter. While the other colors seem random & in no particular order, the black lines seem to be purposeful.
I was drawn to this painting because Blue is my favorite color. Blue is associated with calmness, but I think this painting shows a different side of the color blue. This painting shows the strength of blue, like an ocean, calm but has the possibility to be destructive & explode. Chris could have planted the brown to show that the water had taken over all of the land except for two small parts. Reflecting back on the Mondrian quote earlier mentioned, by Chris not becoming fully immersing in painting the object "perfectly" he is able to express the real message.